Skip to product information
Turkish Wine Tour Adventure
Join Ross Halleck for a trip of a lifetime: The Republic of Türkiye!
Turkish Wine Tour Adventure
October 2024
Final Dates TBD
Regular price

$14,889.00 per person
Unit price

per
Couldn't load pickup availability.
ITINERARY - GULF OF HISARONU
DAY 1/ BODRUM – KARAADA

DAY 2/ KNIDOS – DATCA

DAY 3/ ORHANIYE – SELIMIYE

DAY 4/ DIRSEKBUKU – BOZBURUN

DAY 5/ SOGUT – AKTUR

DAY 6/ PALAMUTBUKU – MERSINCIK

DAY 7/ ORAK ISLAND – YALICIFTLIK – BODRUM

DAY 8/ BODRUM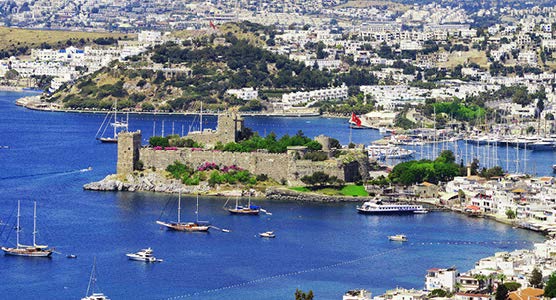 DAY 1 - BODRUM-KARAADA
A pleasant little town, Bodrum has acquired something of a Bohemian reputation from the time when dissident artists and writers were exiled there in the early twentieth century. In a lovely setting, it has become a popular tourists resort over the past few years. The imposing crusader castle in the bay, built by the Knights of St. John, is home to the best underwater archaeological museum in the Mediterranean, and is well worth a visit. Among the artifacts on display are finds from what is thought to be the earliest known shipwreck dating from the Bronze Age. Karaada, (Black Island), is a small Turkish island in the Bay of Bodrum in the Aegean Sea. It is a popular tourist destination, particularly for yachting. In the Middle Ages, the island, which the Greeks know under the name of Arkos, was taken over by the Knights of St. John Hospitaller, who also occupied Bodrum. It was conquered by the Ottoman Empire in the 16th century. In 1919 it was occupied by the Italians. The 1932 Convention between Italy and Turkey assigned it to Turkey.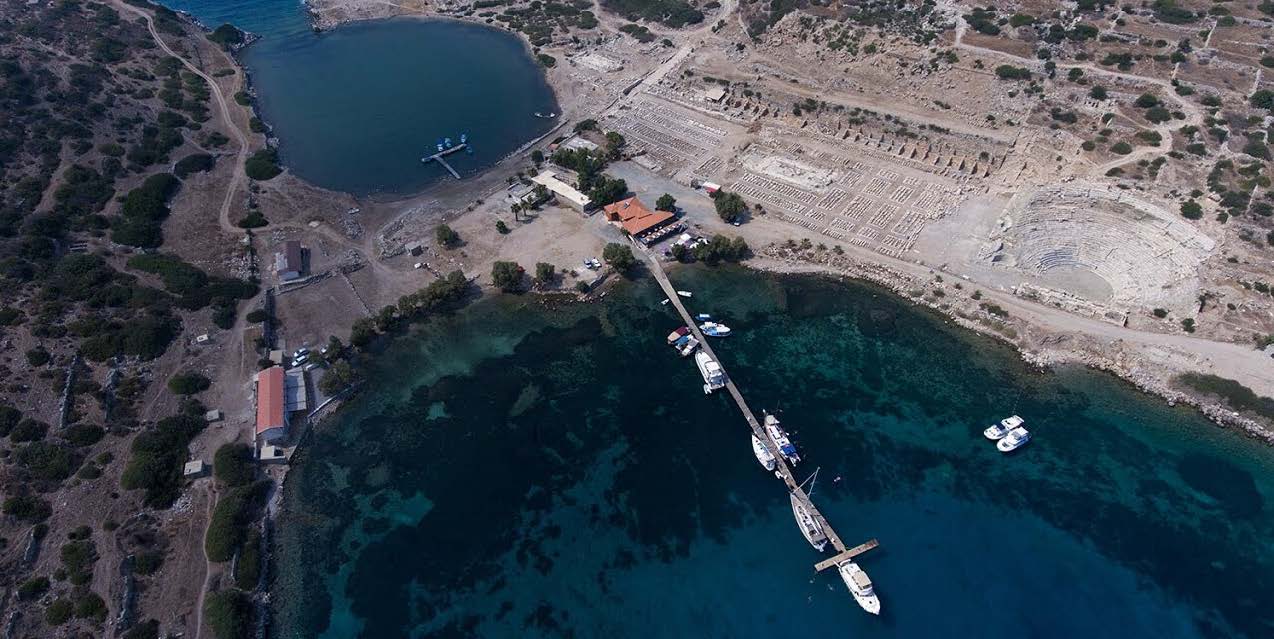 DAY 2 - KNIDOS
Knidos is an ancient settlement located in south-western Asia Minor, modern-day Turkey. It was an ancient Greek city of Caria, part of the Dorian Hexapolis. It was situated on the Datca peninsula, which forms the southern side of the Sinus Ceramicus, now known as Gulf of Gokova. By the 4th century BC, Knidos was located at the site of modern Tekir, opposite Triopion Island. But earlier, it was probably at the site of modern Datca (at the half-way point of the peninsula). It was built partly on the mainland and partly on the Island of Triopion or Cape Krio. The debate about it being an island or cape is caused by the fact that in ancient times it was connected to the mainland by a causeway and bridge. Today the connection is formed by a narrow sandy isthmus. By means of the causeway the channel between island and mainland was formed into two harbours, of which the larger, or southern, was further enclosed by two strongly built moles that are still in good part entire. The extreme length of the city was little less than a mile, and the whole intramural area is still thickly strewn with architectural remains. The walls, both on the island and on the mainland, can be traced throughout their whole circuit; and in many places, especially round the acropolis, at the northeast corner of the city, they are remarkably perfect.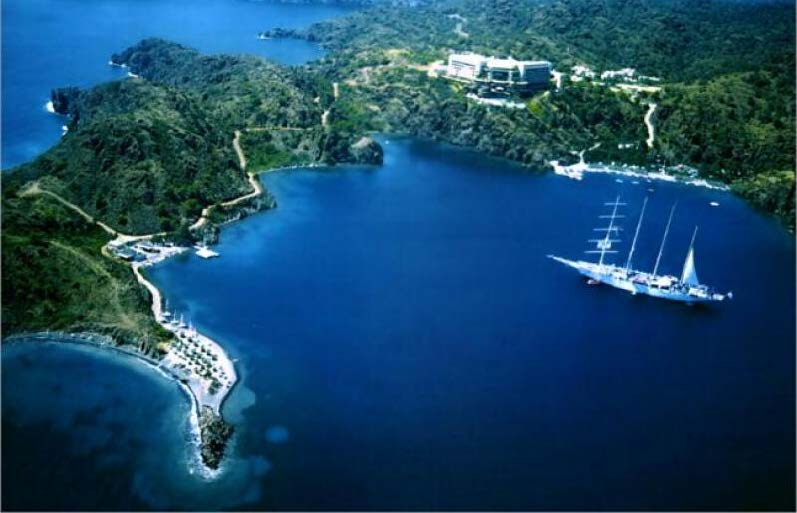 DAY 2 - DATÇA
Datca is located in south-west Turkey, and the center town of the district. The center is situated midway through the peninsula which carries the same name as the district and the town (Datca Peninsula). The name Datça comes from Stadia, a name of the city of Cnidus. Stadia developed into Tadya, Dadya, Dadça, and then Datça. Datça Peninsula is a prized location for tourists visiting Turkey, especially by sea, because of the beauty of its many coves and larger bays, which are favored ports of call for those undertaking the celebrated Blue Cruise along Turkey's spectacular southwest coast.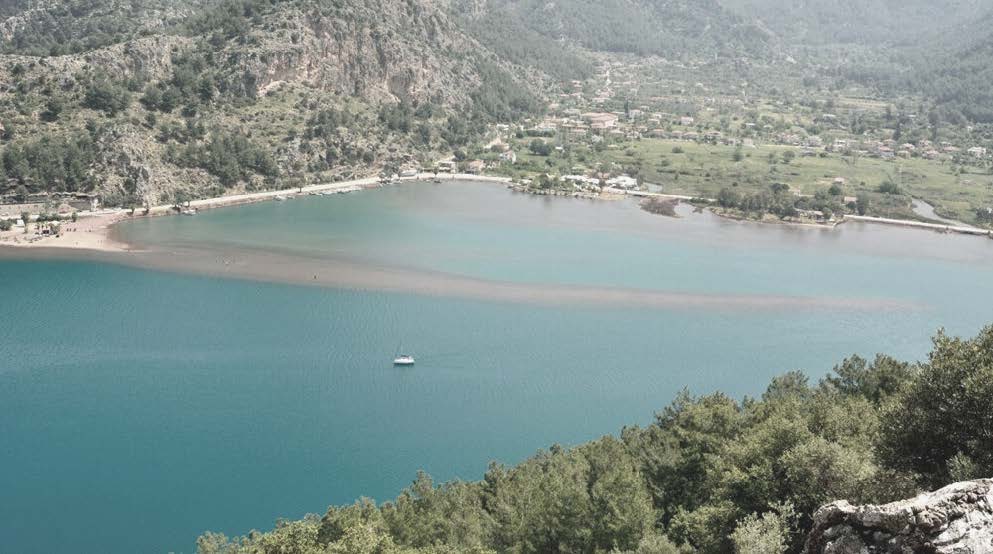 DAY 3 - ORHANIYE
Orhaniye has a beautiful protected bay so is very popular with yacht cruises. It is a protected village so has not been impacted by tourism and offers a friendly and relaxed place to enjoy a fabulous holiday. In Orhaniye you will discover the true unspoilt Turkey, a peaceful haven away from the bustle of modern life, a world away from Turkey's mass tourism resorts. Although the bay in Orhaniye is marked on sea charts as "Keçibükü" or Goat Bay, all the locals refer to it by more poetic name of "Kızkumu'", meaning Maiden's Sands as there is a spit of sand reaching into the bay that you can walk across. Orhaniye is famous for this so you see people 'walking on water' across the bay. The local legend claims that "A local girl who wanted to meet with her lover put some sand in the hem of her skirt and planned to fill the sea with this sand to get to her lover. However, there was not enough sand, and she was drowned". Hence, the word Kızkumu means "girl sand".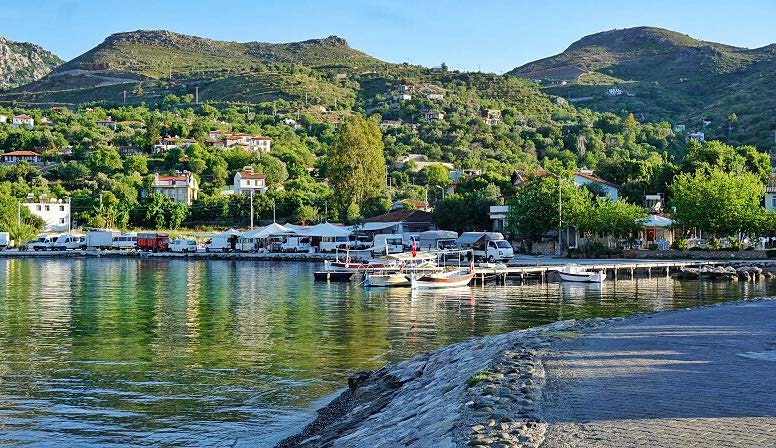 DAY 3 - SELIMIYE
Selimiye is a peaceful fishing village fringing a truly stunning bay just along the coast from Turgutkoy and Orhaniye. It has a public quay and seaside boardwalk, great for walk exploring the restaurants and quaint shops dotted around the village. Discover the old village jail that is now a ruin, built on a small island in the middle of the bay.
DAY 4 - DIRSEKBUKU-BOZBURUN
Dirsekbuku is a timeless and tranquil spot to anchor and stay overnight. The peace and quiet, breathtaking scenery and clear waters are truly alluring. It's a place that preserves your energy if not replenishes it. Tourism, fishing, sponge diving and apiculture are the main means of livelihood for its inhabitants. Its thyme honey is famous across Turkey. It has a small, yet lovely harbor is also one of the key stops on the popular nautical tourism. Its pristine sea is surrounded by coves.
Bozburun is well known in the region for its expert construction gullets. Bozburun Peninsula is one of the most beautiful parts of Turkey as it is protected by the Government and classed as a natural environment. This means that all development is severely limited with high rise construction banned throughout the peninsula. Because of this, the Bozburun Peninsula is often referred to as a living museum as the way of life is largely unchanged from decades ago. Compared to bustling Marmaris, all the villages along the Bozburun Peninsula are quiet.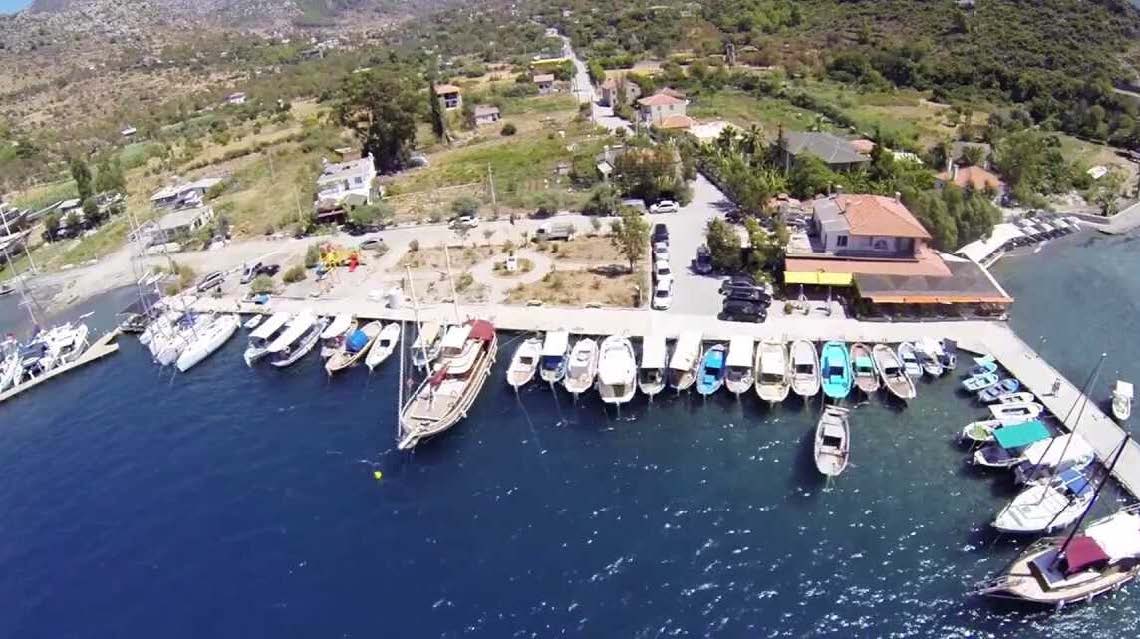 DAY 5 - SOGUT-AKTUR
Sogut is one of the most unspoilt villages you will find, a place where old cultures are still present. There are so many things one can love about this place; breathtaking beauty of the surrounding nature, deep silence, hospitable locals, all good reasons to stop by here as well as beautiful blue water, shipwrecks in the bay, ancient amphoras, ruins from the Carian era and romantic trekking routes.
800 meters long beach and very clean water will welcome you in Aktur. This would be a great time for you to enjoy some water sports. Between two bays the wind is very adequate for surfing.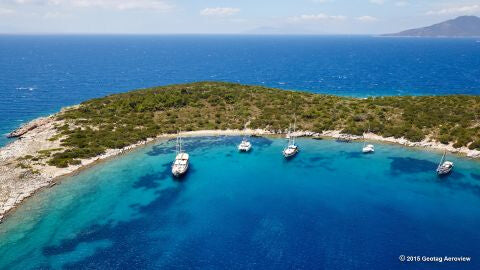 DAY 6 - PALAMUTBUKU -MERSINCIK
Palamutbuku is one of the hidden treasures along the Datca peninsula. Palamutbuku locality, more to the west, also has a little pier which allows boats to moor. It is today a holiday village with a long beach.
Mersincik is the only natural port in the region, it is open to northerlies, but provides shelter from the prevailing wind. The cove at the entry on starboard, affords all-round shelter. The bottom is sand. Good holding. There is just room for a few yachts for anchorage. Mersincik is a nice spot with attractive surroundings. Olive trees cover the surrounding hillsides. Mersincik is connected with Knidos-Datca highway.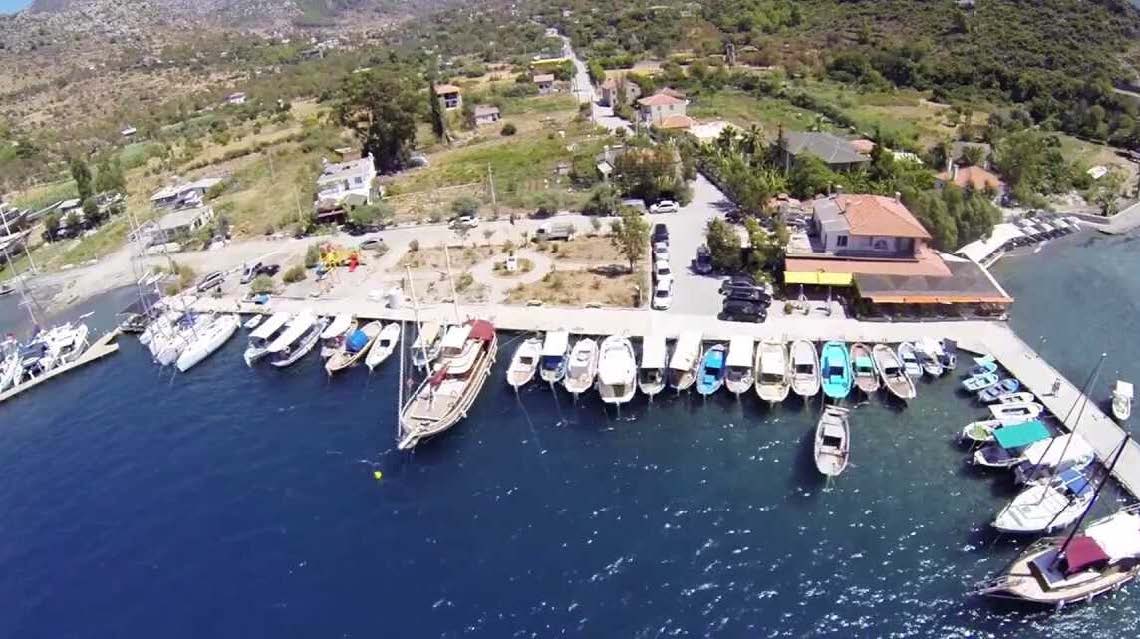 DAY 7 - ORAK ISLAND - BODRUM
Orak Island is located a short distance from the south coast almost exactly halfway between Bodrum and Cokertme. This point is in the Gulf of Gokova and is in a one and half hour sail from Bodrum. The point has an unbelievably beautiful underwater topography.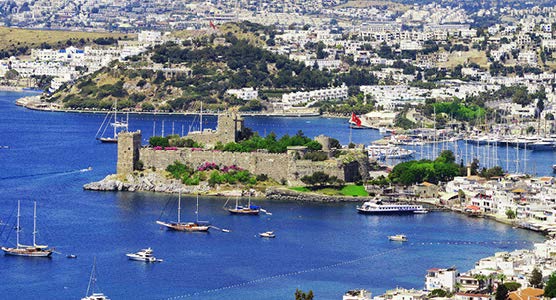 DAY 8 - BODRUM
Return to Bodrum, the Bohemian village we departed from, home of the imposing crusader castle in the bay built by the Knights of St. John and the best underwater archaeological museum.
Packages
Konya & Cappadocia Package

Private Airport Transfers

Transfer from Konya to Cappadocia

Private guided tour - Konya

Private guided tour - Cappadocia

Wine tasting at Chapel Argos (no private dinner)

Shared Balloon Experience 

2 Lunches (without drinks)

Izmir & Ephesus Package

Private Airport Transfers

Private guided tour - Ephesus

Private guided tour - Urla

Transfer to/from Gulet

Wine tasting at Urla

1 Lunch (without drinks)
Alcoholic Beverages (we will take orders for bottled spirits and outfit the Gulet with selections)

Halleck Vineyard wines
Custom Halleck Vineyard wine suitcase to carry wines per couple/person

Domestic Flights (Istanbul-Konya & Cappadocia-Izmir)

Coordination Expenses
All Gratuities

Services not Included

*International Flights 

*Departure flight from Bodrum or Dalaman to Istanbul (suggested to be issued together wtih international leg)

*Dinners (except for Private dinner in Cappadocia)
Alcoholic Beverages other than on Gulet

*Visa expenses
ABOUT THIS EXPERIENCE
The Republic of Turkey (Türkiye) has stood as a bridge between the East and West for millennia and is one of the earliest permanently settled regions in the world. Hence one of the very first wine-growing regions.
We'll enjoy a stay in Istanbul with time to explore its world-famous Grand Bazaar, the sprawling marketplace, comprised of many smaller suqs, among the largest and oldest in the world. Istanbul is replete with historic sites, gorgeous architecture, and amazing food along the Bosporus.
Cappadocia, A UNESCO World Heritage Site, is the site of ancient underground cities that have been inhabited for thousands of years. It is a place of stunning beauty, with underground grottos for swimming as well as the world-famous Fairy Chimneys that mark its other-worldly landscape.
The village of Konya hosts the Shrine of Jalal al-Din Rumi. If unfamiliar, Rumi was a Sufi sheikh (teacher) whose mystical themes represent the most widely read poetry in the world today! His work is timeless, inspiring, and exalting. It's worth reading in preparation for this entire trip.
Konya leads us to Fethiye, a coastal town on the Aegean Sea where we will board our private Turkish gulet, a twin-masted sailing yacht to carry us for a week along the Turquoise Coast for adventure. We'll disembark at Uria, a quaint fishing village and culinary mecca.
We will visit the ancient sites Ephesus and Troy on the coast, before returning to Istanbul for our flights home.
This trip will host 12 people and span 2 weeks. Guests will be exclusively Inner Circle members.
We consistently gather a group of like-spirited travelers.
Space is limited. Please email ross@halleckvineyard.com for more details.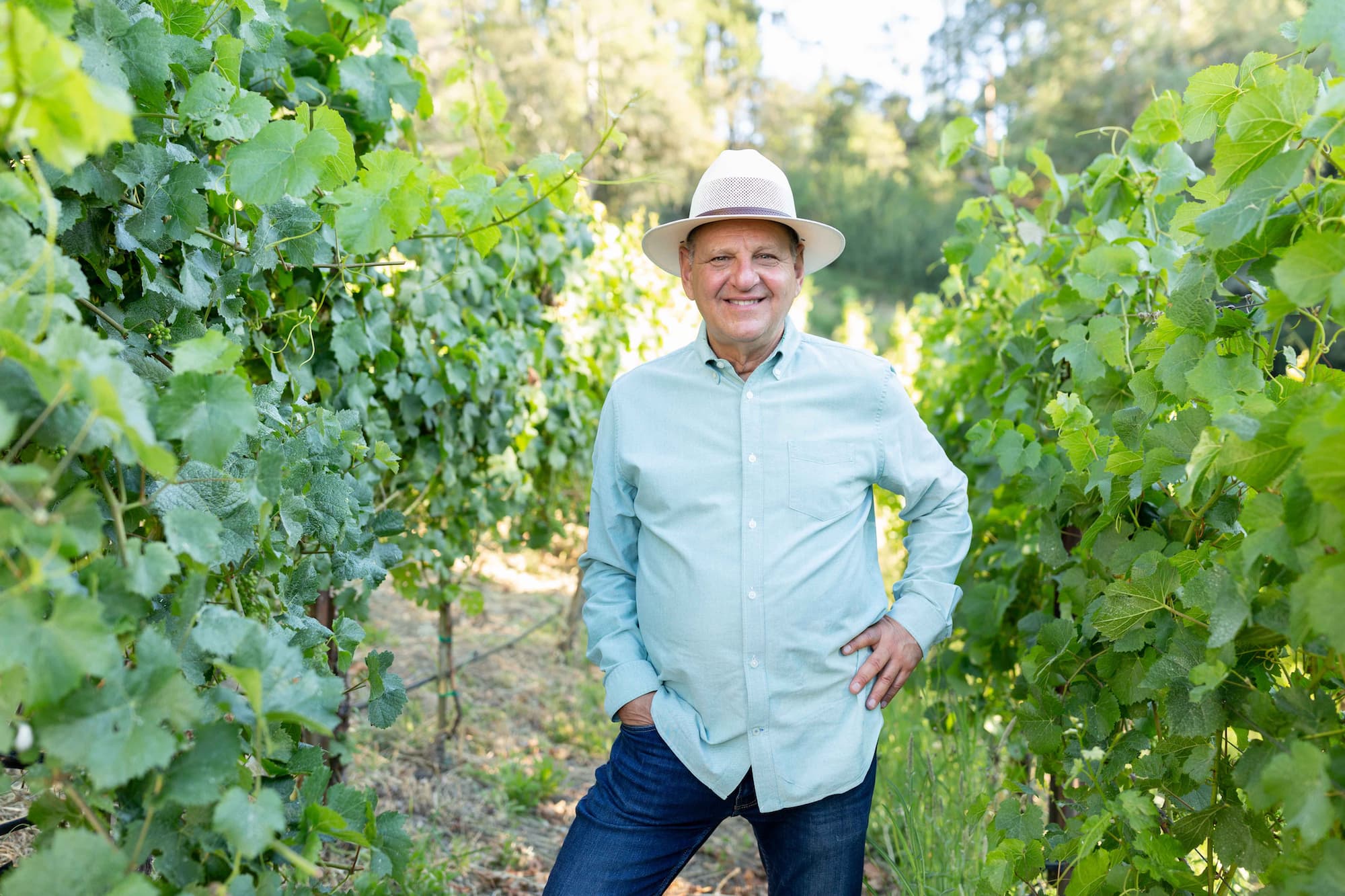 Your Host
Ross Halleck provided the vision and passion behind Halleck Vineyard. He embarked upon his wine career unconventionally. He founded Halleck, Inc. in 1980 as one of the preeminent brand and marketing agencies in Silicon Valley.

Pursuing personal interests, Ross focused on both high technology and wine, maintaining offices in Palo Alto and Sebastopol, CA.

Companies such as HP, Apple, Beaulieu Vineyard, St. Supery Vineyards, Kendall-Jackson, Iron Horse Vineyards and Jordan Winery worked with Halleck to enhance their brands.

Ross moved to Sonoma County in 1991 with Jennifer to develop a Pinot Noir vineyard in the Sonoma Coast region. Once married, Ross and Jennifer dedicated their efforts in the vineyard to putting their future children through college. Planting in 1993, the first harvest was in 1999.

Now divorced, Ross and Jennifer and have redefined family, continuing to work harmoniously in the winery and in coaching their sons.

Ross shepherds the spirit of the earth into every glass of Halleck Vineyard wine. He brings business acumen and sensitivity, fueled by passion. He continues to drive the marketing of Halleck Vineyard, along with crafting the wines and hosting wine tastings at the Halleck Vineyard Estate.

Ross and Jennifer are the parents of three sons; he is now focused on his singular career of Halleck Vineyard.
With the vineyard and three children underway, Jennifer delved into the wine world, which quickly became a passion. Working in the cellar at Tandem Winery with Greg Lafollette, she then moved into the tasting room at J Vineyards and Winery, followed by a job in sales representing Kosta Brown. All her experience, with her love of agriculture, confirmed that producing Halleck Vineyard wines was her calling.
She now wears many hats, among them sourcing vineyards, wine production, hosting charity events, mounds of emails and, of course, creating many great wines.
BUILDING COMMUNITY THROUGH WINE
Vineyard Community

We invite you into our community of fine wine lovers. As vintners, we hope to make the world better by sharing our wines and using this platform to support noble causes across the planet. 

Visit our Sonoma Winery

We hope to foster a personal connection with other epicureans who enjoy Sonoma wines. Hence we invite people to our home, travel to meet them, share meals, and invite them on trips around the world.

Environmental Stewardship

Farming grapes is as much art as science. Our role is to sustainably shepherd our grapes to their greatest potential using guidance and inspiration from mother earth.